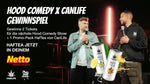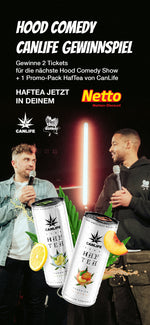 CONTEST
WIN AND FOLLOW US ON INSTAGRAM!
Follow us on Instagram and you will find out TOP Aktuell when our next competition starts. From drinks to merchandise products to a meet & greet with one of our CanLife ambassadors or, for example, an invitation to a CanLife private concert or other promotional activities. You will always stay up to date on our Instagram account!
By participating in our sweepstakes, you accept the following conditions of participation. https://canlife-drinks.myshopify.com/pages/teien
On offer
Der Lemon OG Eistee ist vom MHD überschritten (MHD 29.10.23) und wurde aber geprüft und ist noch für den Verzehr geeignet.
Es handelt sich hierbei um die letzten verfügbaren Dosen und wird daher zum reduzierten Preis mit 50% Rabatt angeboten.
Der erste Cannabis Eistee in der Dose mit Grüntee, Zitrone und Hanfgeschmack. Dieser Zitronen Eistee besticht nicht nur durch seine tolles und schlichtes Design sondern verspricht zudem noch eine entspannende Wirkung durch die enthaltenen Kush Terpene, ist nicht so süß und zudem auch noch gesund und liegt mit seinem Grünteeanteil fast doppelt so hoch wie die Standard Eistees auf dem Markt.
Gute Gründe für HafTea:
Ein premium Chill Out Drink mit coolem Design

Neue und leckere Geschmackskombination

Kush Terpene die entspannend wirken

Grüntee der gesund ist und Antioxidantien enthält

Nicht so süß und Zuckerreduziert